Say Hello To Tragedy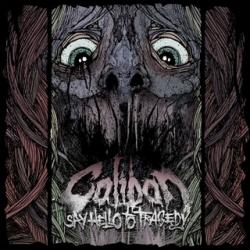 Say Hello To Tragedy, nouvel album de
Caliban
qui Frappe fort! Sorti le 24 Aôut 2009
C'est un retour au source pour caliban, qui n'hésite plus à réemprunter au trash-metal,comme ils avait su le faire pour
Vent
ou encore
Shadows Hear
t.
1 ans et demi aprés
The awakening
ce retour au source fait palire les rois du metalcore,plus trash que jamais,des riff revu à la hausse pour une qualitée d'écoute impecable.
Ce 8éme album studio ne passera pas inapercu,
Caliban
murie de jour en jour,et nous le prouve encore avec des musique comme 24 Years, Coma, In the name of progression, ou nous constatons l'ampleur de ce changement qu'on ne peut qu'apprécier et encourager.
Saluons aussi et c'est une grande premiére!La venue des solo de guitare, en effet Caliban ne s'était jamais amuser a compléter ses musique par cette petite touche que tous dans le metal apprécions.
Et pour Finir je vous laisserais écouter cet album (si ce n'est déja fais)pour en dévorais chaque seconde!
_______Line-up:_______

Marc Görtz - guitar
Andreas Dorner - vocals
Denis Schmidt - guitar
Marco Schaller - bass
Patrick Grün - drums
_______________Autre Information:_______________

Produit par Benny Ritcher et Co-produit par Marc Goertz ( Guitariste )
Mixage par Adam Dutkiewicz (Guitariste de KillSwitch Engage)
Date de sorties:

21 Aôut 2009 en allemagne, 24 Aôut 2009 en europe, 25 Août 2009 Pour le reste du monde.
Label:
Century Media Records, Century Media USA.
________________________________Tracklist____________________________________
24 Years (3:47)
Love Song (3:27)
Caliban's Revenge (3:59)
End This Sickness (4:16)
Walk Like The Dead (4:15)
No One Is Safe (3:41)
Liar (4:39)
The Denegation Of Humanity (4:05)
Unleash Your Voice (3:35)
All I Gave (5:24)
In The Name Of Progression (4:46)
Coma (3:47)