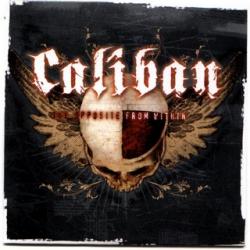 The opposite from within, un album qui dérange ceux qui connaissent Caliban depuis le début.Pourquoi me direz vous? Tout simplement car c'est l'album qui marque le réel et seul gros changement dans l'histoire du groupe personnellement j'adore cet album, et le changement de style ne me dérange pas, car oui! il fut un temps (pas si loin) ou Caliban nager dans le monde du trash métal! et il s'y prêter à merveille, Mais trêve de bavardage parlons de cet opus. Si le groupe à changer de style, la musique quand à elle reste toujours aussi bien sans s'enfonce trop dans le Hardcore ni dans l'emo le groupe flotte entre les deux avec des chant souvent clair et des voix bien ardu! Quand au compos la signature du célèbre Anders Fridén est très bien reconnaissable et suis très bien cet album on note dans le genre Hardcore stigmata, salvatation, 100 suns, tandis que du cotée emo my little secret et one of these days. Un album donc très variée qui apporte sont petit lot de surprise. Et pour les musique les plus apprécier 100 suns, Stigmata, et Goodbye arrive en bonne position!
_______Line-up:_______

Marc Görtz - guitar
Andreas Dorner - vocals
Denis Schmidt - guitar
Boris Pracht - bass
Patrick Grün - drums
_______________Autre Information:_______________

Produit par Anders Fridén( Chanteur d'In Flames )
Mixage par Andy Sneap
Date de sorties:

20 Septembre 2004 Dans le monde.
Label:
Abacus Recordings puis Roadrunner Records Germany
________________________________Tracklist____________________________________
The Beloved and the Hatred
Goodbye
I've Sold Myself
Stand Up
Senseless Fight
Stigmata
Certainty...Corpses Bleed Cold
My Little Secret
One of These Days
Salvation
Dairy of an Addict
100 Suns
Trapped In Time (Bonnus Track)