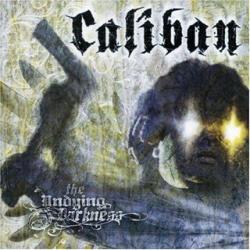 The undying darkness, on pourrait l'appeler le guest album tant les inviter sont nombreux et pas des moindres! Pour cet album Caliban c'est réelement fait plaisirs en invitant des membres de
Zero Mentality
,
Black Friday 29
,
MachineMade God
,
Gel
Pour s'occuper des back vocals de I'ts our burden to bleed et No more 2nd Chances sans oublier Mille Petrozza de
Kreator
pour Moment of clarity.
Le groupes c'est aussi permis de faire une reprise de Arme of me de Bjork avec Tanja Keilen en renfort.Et même avec cette douce voix on a dû mal à reconaitre l'original tant Caliban a su faire un reprise digne de ce nom.Parmis les grosse tuerie de cette album on trouve Moment of clarity une musique aussi speed que bourrine! et oui quand Mille petrozza est là le calme s'en va! Pour le reste de l'abum on retrouve du Caliban comme à l'habitude même si en général l'album est beaucoup plus rythmique que les précédent il n'en reste pas moin éxélent!
_______Line-up:_______

Marc Görtz - guitar
Andreas Dorner - vocals
Denis Schmidt - guitar
Marco Schaller - bass
Patrick Grün - drums
_______________Autre Information:_______________

Produit par Anders Fridén( Chanteur d'In Flames )
Mixage par Andy Sneap
Date de sorties:

27 février 2006 Dans le monde.
Label:
Roadrunner Records Germany
________________________________Tracklist____________________________________
Intro
I Rape Myself
Song About Killing
It's Our Burden To Bleed
Nothing Is Forever
Together Alone
My Fiction Beauty
No More 2nd Chances
I Refuse To Keep On Living...
Sick Of Running Away
Moment Of Clarity
Army Of Me
Room Of Nowhere